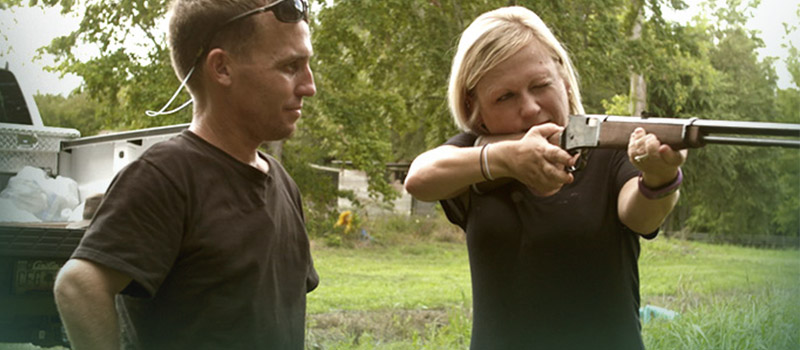 DETROIT, MI — March 23, 2017 – CarbonTV debuts "A Little Bit Country," an original micro-series highlighting Brian and Amanda Tisdale, an inspiring small-town couple who fearlessly conquer the obstacles that come with their physical challenge. "A Little Bit Country" was produced by the director of the TLC hit show "Little People, Big World," and is available on-demand for free on www.carbontv.com and related CarbonTV OTT apps.
Brian is an avid hunter who grew up in the outdoors while Amanda is a southern belle from the city, adapting to rural life. In the series, we catch a glimpse of how they overcome their innate obstacles to live full and active lives in the outdoors. Whether it's Brian teaching Amanda to shoot for the first time or seeing how he modifies his hunting rifle and ATV's to fit his unique needs, the series captures their unbreakable bond with each other and the outdoor lifestyle.
"We are very fortunate to work with Brian and Amanda on this series," says Daniel Seliger, EVP of Content and Marketing at CarbonTV. "CarbonTV is always looking for inspiring stories about those who live authentic lives in the outdoors, and on that score, the Tisdales check all the boxes."
Watch "A Little Bit Country" now: http://www.carbontv.com/shows/a-little-bit-country
About CarbonTV
The best of what's happening outdoors is happening here. With more than 120 shows and millions of monthly views, CarbonTV is the leading online streaming destination for outdoor and rural lifestyle video. CarbonTV is the digital home to acclaimed shows, such as American Elements, Bone Collector, Heartland Bowhunter's Behind the Draw, Major League Bowhunter, Mega Truck Series and the RideTV network. All video content is available on demand, for free at CarbonTV.com and through the CarbonTV app available on iOS and Android, Roku, Samsung Smart TVs and Xbox One. To learn more, visit www.carbontv.com. Download the iOS app: http://apple.co/1Niz17J or the Android App: http://bit.ly/2ccI18C. Connect on Facebook: https://www.facebook.com/CarbonTV.