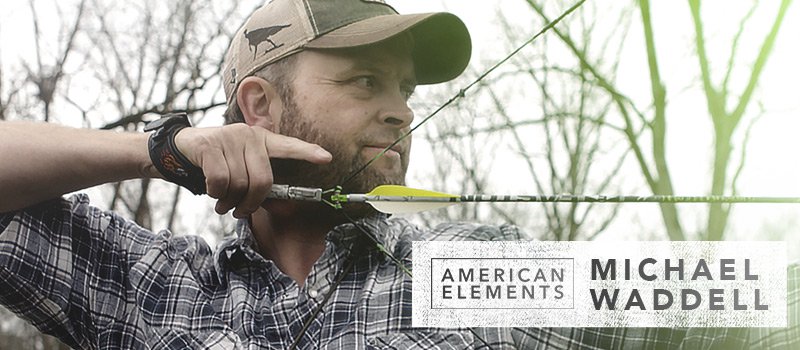 DETROIT, MI — April 27, 2017 – CarbonTV debuts the second season of its award-winning documentary series "American Elements" with an exclusive profile of Bone Collector founder Michael Waddell. "American Elements: Michael Waddell" is available on-demand for free on www.carbontv.com and related CarbonTV OTT apps.
In the episode, Waddell tells the story of his rise from typical, small town southerner to national hunting icon. We get a glimpse of his life growing up in Booger Bottom, Georgia and learn how his obsession with chasing turkeys led to the creation of the Bone Collector brand; one of the outdoor industry's most successful franchises.
"Success shouldn't make you cocky, it should make you humble and bring you closer to your roots, because that is typically what gets you there in the first place. Stick to your roots and you can grow in so many directions," says Michael Waddell.
"We are thrilled to give viewers a window into Michael Waddell's life," says Daniel Seliger, EVP of Content at CarbonTV. "There is no one in the outdoor industry quite like Michael. Every sportsman should watch this episode."
Waddell co-hosts the television shows "Realtree Road Trips," and "Bone Collector," and serves as the national spokesperson for the National Wild Turkey Federation.
Michael Waddell's episode marks the ninth installment of the American Elements series. Prior episodes featured rural luminaries like bow-hunting athlete Cameron Hanes, best-selling author and commentator Taya Kyle, MMA fighter and outdoorsman Chad Mendes and other captivating stories. The collection won the 2016 Telly Award for Best Web Series and has garnered millions of views on CarbonTV.
Watch "American Elements: Michael Waddell" now: http://www.carbontv.com/shows/american-elements/michael-waddell
About CarbonTV
The best of what's happening outdoors is happening here. With more than 120 shows and millions of monthly views, CarbonTV is the leading online streaming destination for outdoor and rural lifestyle video. CarbonTV is the digital home to acclaimed shows, such as American Elements, Bone Collector, Heartland Bowhunter's Behind the Draw, Major League Bowhunter, Mega Truck Series and the RideTV network. All video content is available on demand, for free at CarbonTV.com and through the CarbonTV app available on iOS and Android, Roku, Samsung Smart TVs and Xbox One. To learn more, visit www.carbontv.com. Download the iOS app: http://apple.co/1Niz17J or the Android App: http://bit.ly/2ccI18C. Connect on Facebook: https://www.facebook.com/CarbonTV.