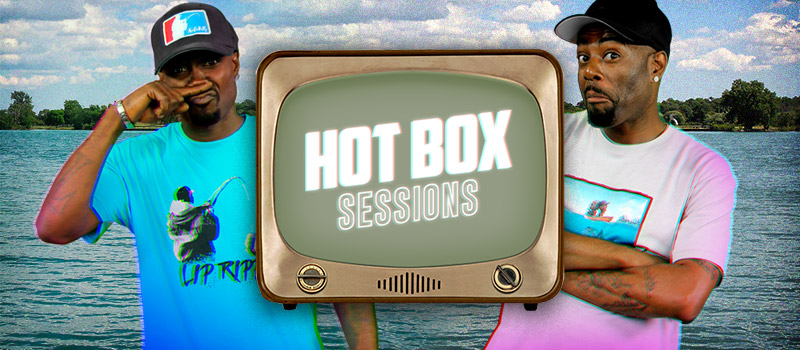 DETROIT, MI — September 5, 2017 – CarbonTV debuts the original series "Hot Box Sessions" featuring comedic YouTube stars and fishermen Crappie Killa and Westbred Diamond, on-demand for free exclusively on www.carbontv.com and related CarbonTV OTT apps.
Hilarious outdoorsmen Crappie and Westbred trade their usual fishing boat for a couch to give their take on shocking internet videos. "Hot Box Sessions" shows viewers the two viral show hosts in a different format. This fun, six-episode premiere season adds to CarbonTV's growing comedic content. Filming took place at the Carbon Media Group headquarters in metro Detroit, a first for any CarbonTV Original series.
"Hot Box sessions plays off of Crappie and Westbred's natural comedic demeanor, while incorporating some hilarious viral internet videos from the outdoors," says Kelley Wolf Griffith, VP of Production at Carbon Media Group. "It was a lot of fun filming this series with them. They were very hands on with the development process."
Crappie Killa and Westbred Diamond were recently introduced on the streaming network in CarbonTV's award-winning series American Elements, which received more than 1.3MM views on-site and across social within the first week. Their internet fame began with the creation of their YouTube channel in 2015.
Watch "Hot Box Sessions" https://www.carbontv.com/shows/nodr
About CarbonTV
The best of what's happening outdoors is happening here. With more than 200 shows and 6.3 million monthly views, CarbonTV is the leading online streaming destination for outdoor and rural lifestyle video. CarbonTV is the digital home to acclaimed shows, such as Heartlandia, American Elements, Heartland Bowhunter's Behind the Draw, and Mega Truck Series. All video content is available on demand, for free at CarbonTV.com and through the CarbonTV app available on iOS, Android, Roku, Samsung Smart TVs, and Xbox One. To learn more, visit www.carbontv.com. Download the iOS app: http://apple.co/1Niz17J or the Android App: http://bit.ly/2ccI18C. Connect on Facebook: www.facebook.com/CarbonTV.